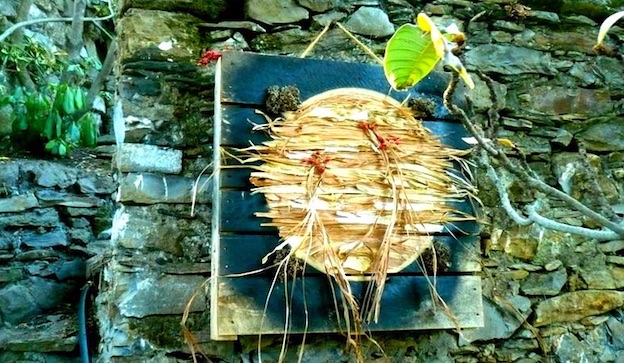 Come ogni anno, in occasione della festa della Madonna della Misericordia che si terrà domenica 3 settembre, l'Associazione Amici di Bellissimi organizza l'evento artistico Quando la Natura diventa Arte. E' invitato a partecipare chiunque con opere artistiche realizzate con elementi naturali oppure con oggetti che l'uomo abbandona nell'ambiente e che a volte deturpano la natura ma che trovano una loro utilità se recuperati artisticamente. Le opere che andranno a interpretare il binomio arte/natura possono essere presentate attraverso varie tecniche espressive come poesia, composizioni, installazioni, sculture, pitture e fotografie, quest'ultime debitamente incorniciate o presentate su supporto rigido. Nella giornata della festa le opere trovano la loro collocazione e integrazione naturale in un fascinoso giardino terrazzato del borgo messo a disposizione da una famiglia di Bellissimi.
I sopralluoghi e le installazioni possono aver luogo da venerdì sino alla mattinata di domenica.

Per ulteriori informazioni o partecipazione si invita a contattare Guido Gulino ( tel. 3494161329 – ggulino53@gmail.com)
When Nature becomes Art 2017 – Call
On the occasion of the festivities for the Madonna of Misericordia held on Sunday 3rd September the Association Amici di Bellissimi will organize the exibition/event When Nature becomes Art. The invitation is open to all those who desire to create an opera of art using natural elements or objects that have been abandoned and left to disfigure the ambient but can be reutilized and recreated artistically. The operas entered in art/nature can be executed using various techniques such as poetry, compositions, installations, sculptures ,paintings or photographs which must be framed or have a support. The above operas realised will be shown in the surroundings of a lovely terraced garden belonging to the family Bellissima in the village, where they will be displayed at their best.
For further information or partecipation please contact Mr Guido Gulino ( tel 3494161329 ggulino53@gmail.com )